Meet the Founders-Elize de Beer
I was born and raised in Johannesburg, South Africa. In 2012 I moved to Cape Town to study Fine Arts at the Michaelis School of Fine Arts. During my course I majored in art history and printmaking. There after I did my honours in Curatorship, where my final project was focused on audience participation in art museum spaces. After my studies I became the gallery manager for the David Krut Projects Gallery and Bookstore in Cape Town. This was also where I first met co-founder of CLAS, Ame Bell. Since my move back to Johannesburg I worked alongside Ame at the David Krut Projects space in Johannesburg until mid-2019. Since then I have been the manager of Wessel Snyman Creative, a carpentry and conservation based framing studio where I have the privilege of working with beautiful art objects and get to bring them to life through framing.
What does Chopping Liver mean to you?
Ame and I used to work together on projects while we both worked at David Krut Projects. In our personal capacities we have worked on artistic projects together, each sharing respective skills and knowledge about our art practices and the art world as a whole. So, with our shared love for the arts, podcasts, cats, working together and wanting to shed light on the sidelined creatives, The Chopped Liver Appreciation Society was born!
The name Chopped Liver came about when Ame and I felt and saw how our and other creatives hard work, time and energy would be undervalued and rarely recognized; we would joke that we are all just chopped liver! Rather than just sitting and accepting it, we started CLAS in order to share with the world the tales of amazing and talented creatives that are among us. Additionally this will give them a platform to share their story. It will demonstrate to the world that these people are more than simply chopped liver!  CLAS is an opportunity for us to support creatives, a place for them to tell their stories and share their skills and knowledge in their respective fields. I also see it as a chance for me and others to learn from these creatives as well as understand, if only superficially, what it takes to be a party of their various industries. CLAS is here to bring to light the value in what people make and do and how important their roles are in the world.
What is your fascination with podcasts + top 3 podcasts?
My love for podcasts first began when I started listening to "Serial" (A podcast Ame actually recommended). Since then I was hooked, now I jump between true crime, general knowledge and art inspired podcasts. It is a platform through which I am both entertained, actively and passively, and yet able to learn new things and hear stories that inspire my artistic practice and daily life. One of the reasons we chose podcasts as our medium of sharing these stories is because it allows creatives to be the voice of their own stories.
My current top podcasts are: Ologies with Alie Ward, My Favorite Murder and The Jealous Curator.
Why did you choose to illustrate a cat for your podcast logo
Ame and I are both passionate cat people. We have often used cats as our subject matter in our art works and it just felt fitting to have a cat as a mascot. My cats are named Floki and Puddle and they live up to their names more and more as time passes.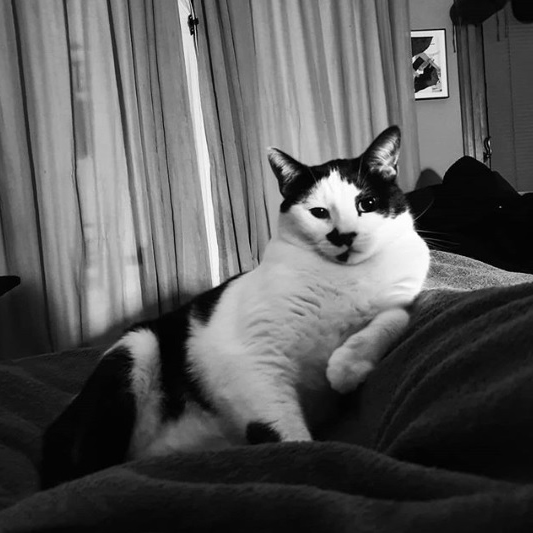 How to spend your creative energy?
While being a framer during the day, I am also a practicing artist and maker of things. Since my days at university I have fallen in love with the medium of printmaking and paper. I love how process based and technical it is and that there are an innumerable amount of things one can do in the medium. It can also be a means to an end; one can do a print and transform it into a sculpture, a book, a collage, a 'whatever'; the possibilities are endless! Alongside printmaking is my love of all things book. I am a self-taught bookbinder and bookmaker. My practice has always been influenced by the physicality of books and I am continually exploring its meanings and structures. I enjoy playing with different forms of binding, covers and pop-up book mechanisms. My fascination with books is rooted in that I am dyslexic. My work as a whole has been largely based on personal narratives and my dyslexia has been the inspiration for a great deal of my practice both within my book arts and print works.
After my studies I took part in internships focusing on book restoration, since then I have been restoring books as a side project and constructing presentation boxes for books and artworks. The concept behind art/book conservation has been so inspiring and fascinating, whereby one has the ability to restore and preserve a part of history. It's like a form of magic.
To sum it up, I love making things and learning new skills and to bring those together to grow my art making practice.
Favorite Artist?
There are so many to choose!
El Lissitzky. Since my days at university his work and ways of seeing the world have been more than just inspiring to me. He brought innovation and change to areas such as typography and book design. I have a children's "visual book" that Lissitzky first created in 1922 entitled "About Two Squares". His work is a reminder that seeing the world from a different perspective is the artist's power.
What is your dream project?
I would love to learn how to make my own paper and bind a large book with it.
What's the best piece of advice you've been given?
Make art for yourself!
I am really looking forward to the CLAS project and I hope this platform helps shine a much needed light on creatives and innovators that are often unseen.
If we want to find out even more about me you can follow me on Instagram at @elize3db or go visit my website www.elizedebeer.com