Meet the Founders – Amé Bell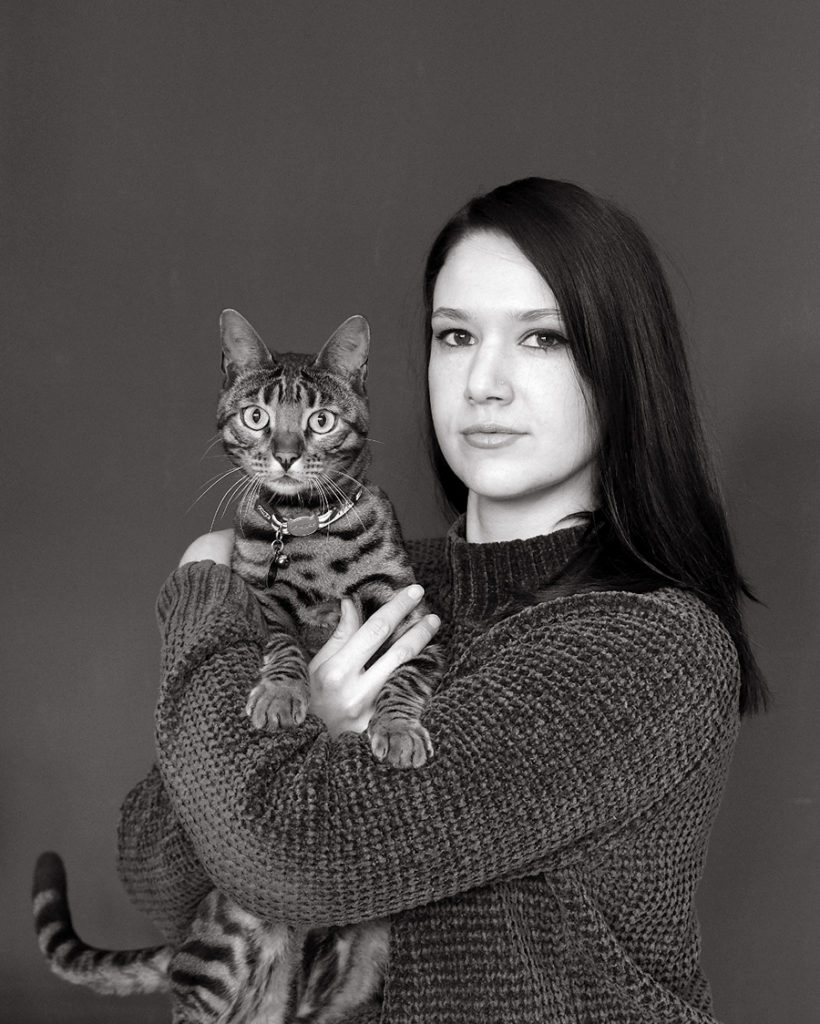 Bio
Born in 1988, I lived in Johannesburg until I moved to study at the North West University in Potchefstroom in 2006. I majored in English and Art History during my undergraduate degree and finally obtained a Master's degree in Art History in 2012. In 2009, I started working at the North West University Gallery as an intern and later as a gallery assistant where I had the opportunity to curate my first two (wo)man exhibition. During my Master's Degree I worked as a graphic designer at a digital advertising agency and learnt how to use multiple photo manipulation and design programs which would later prove to be very useful in my freelance activities. In 2013, I moved back to Johannesburg to pursue a career in the arts. I am currently a director at David Krut Projects, responsible for operations and the artist exhibition programme. I was fortunate enough to be appointed as the curator for the 2022 South African Pavilion at La Biennale Arte in Venice. I am passionate about collaborating with and learning more about artists and their practices which has inspired me to develop my own creative process.  
What does the Chopped Liver Appreciation Society mean to you?
The Chopped Liver Appreciation Society for me has stemmed from a fascination with individuals who pursue "alternative" careers in creative and other industries. So much of what exists in the world has been made possible by people functioning on the periphery of larger creative projects. CLAS is an opportunity to unveil and speak about the talent and expertise that is associated with individual contributions in a project or product that often goes unnoticed such as the roles of typographers, exhibition makers, bookmakers, writers, photographers etc. CLAS is a platform to engage with creatives who have turned their passions into careers and reinforces the idea that nothing is impossible. Our platform also provides the opportunity to acknowledge and appreciate those who work behind-the-scenes and celebrate the magic that they help put into the world.
Co-founder Elize de Beer and I have been talking about this project for over a year and we are so excited to start this journey together, for ourselves and others.
What is your fascination with podcasts and your favourite podcasts?
Podcasts have been the best invention since sliced bread. I first started listening to podcasts while living in Brooklyn, New York for a month in 2016. While taking the 40 minute train ride from Brooklyn to Manhattan, I needed something to help pass the time. I started listening to Serial and immediately was hooked. I am addicted to true crime and some of my favourites include Sword and Scale, Undisclosed and S-Town. I also love hearing from other creatives and learning more about artists and art related issues and have enjoyed Women of Illustration and The Artsy Podcast.
Why did you choose to illustrate a cat for your podcast logo?
Elize and I are both cat crazy and we anticipate that cats will feature throughout this project organically as our muses and mascots. We both have cats and the quirky liver-eating cat seemed like an appropriate icon to capture our personalities in the identity of the project. My cat is named Shere Khan and is the inspiration for much of my own creative work.
How do you spend your creative energy?
I have always had a fascination with drawing and most of my creative energy is focussed on learning and developing my drawing skills. Through my work at David Krut Projects, I am constantly exposed to various mediums of art making and specifically printmaking which often makes me itch to try new mediums.
In 2018, Elize was visiting from Cape Town and took the time to teach me how to make prints. She also introduced me to the art of paper mechanics and making pop-ups. Since then I have produced a series of linocuts, various copperplate etchings and drypoint plates. Making one plate is enough to get you hooked and I keep experimenting with various printmaking techniques which translate my drawings in different ways. I have also converted my drawings into pop-ups and am currently working on a small pop-up book called "The Witch's House".
I further have a keen interest in band and art-product photography and have previously made a few small stop-motion animations which I aim to develop ongoing. Although I have no formal training in art, making and being creative has always been ingrained in me and I actively pursue developing new skills to build confidence and continue making. I also spend time encouraging others to do the same. Once upon a time we all could draw, why did we ever stop?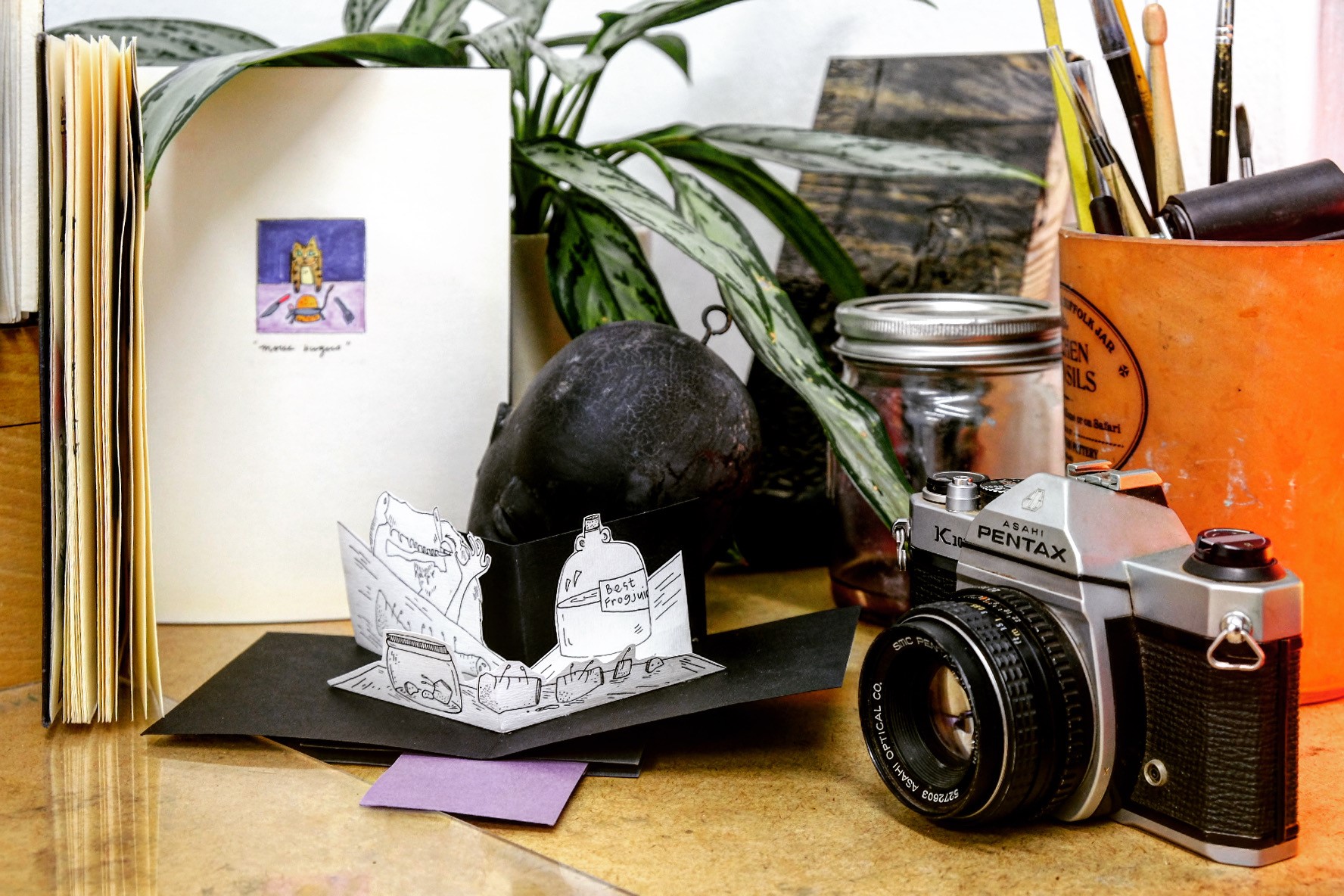 Who is your Favourite Artist and why?
I am inspired by many artists but Grayson Perry, the transvestite potter from Essex is definitely a firm favourite. I did my honors dissertation on his work and since then I have followed his career with great enthusiasm. I am inspired by his ability to translate imagery from his imagination and the bravery through which he has dedicated his practice to making objects that would open up the discussions relating to the inclusion of various mediums that may or may not have been appreciated in the fine art context. He recently commented on the importance of expressing and unpacking the imagination and I aspire to developing and unlocking my own imagination in my work.
I am also deeply inspired by the life and work of Katsushika Hokusai, a Japanese Ukiyo-e painter and printmaker from the Edo period. Many of my own drawings and recent prints are stylistically drawn from the Japanese woodblock tradition and sumi-e painting.
What is your dream project?
I would love to write and illustrate children's books, perhaps incorporating pop-ups. I also would love to make a short stop motion picture and of course- expand Chopped Liver.
What is the best piece of advice you have been given?
"Never give up on your dreams – it is never too late to start"
What are your SM handles?
@_amebell_ personal blog page with a twist of artworks